Ascot Diamonds review
Should you buy your engagement ring or wedding ring from Ascot Diamonds?
---
Ascot Diamonds aims not to be your typical jewelry store; but rather engagement ring experts offering a better, more personal diamond ring buying experience.
So do they deliver on this promise?
In this Ascot Diamonds review, we will primarily examine them from the point of view of buying a diamond engagement ring. However, the findings are equally relevant for any other type of jewelry.
If you'd like to jump straight to the 'value for money' section and see how choosing one of my recommended retailers could save $770 compared to Ascot Diamonds, click here.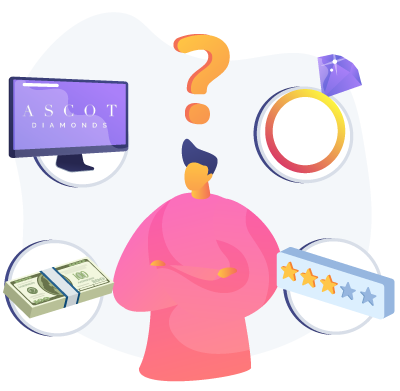 Ringspo is reader-supported, which means we may receive a commission if you click a link to a retailer & subsequently make a purchase.
We feature links to several retailers to help readers find the one that is the best fit for them. Find out more about how Ringspo works here.
On this page you'll learn everything you need to know about:
Ascot Diamonds ring selection
Ascot diamonds have a large range of engagement ring setting styles available, from classic solitaires to ornate, art deco settings and everything in between.
Classic solitaire setting: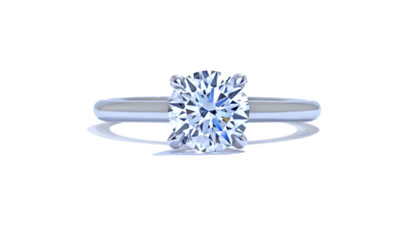 Art deco setting: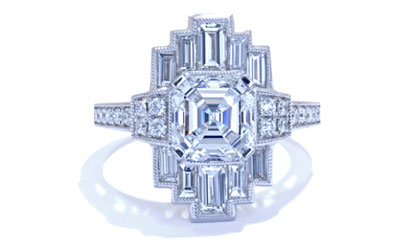 It's worth clicking through to their website to check them out because there are some truly beautiful rings available.
Unlike most retailers' websites, you can't select a particular style of setting to view available options, instead you are encouraged to filter by price range, so you can see what is available within your budget:

While this does make sense to some extent as you will be buying a whole ring for a set budget, it can make the experience a little frustrating. For example, if I know that I want a pear shaped diamond halo ring, I need to scroll past many other styles until I find what I'm looking for: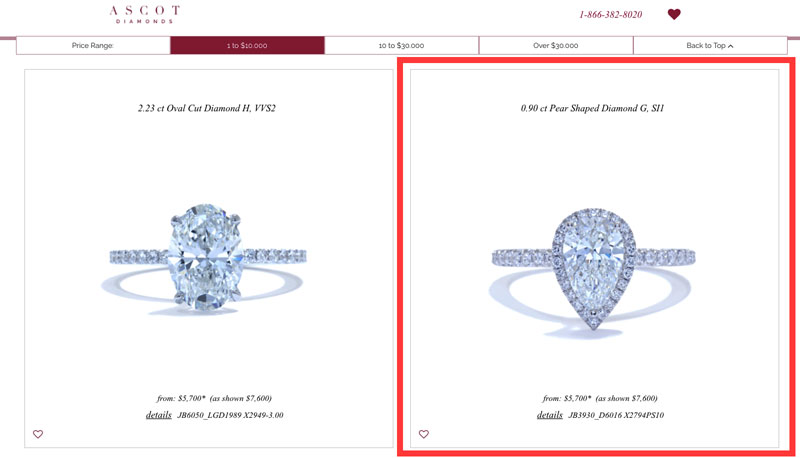 Despite this slightly frustrating user experience, Ascot does have a great selection of beautiful rings. Many are pre-paired with a diamond already, which means that it's easy to understand the total cost of the ring.
However, ring settings being pre-paired with a diamond does mean that it's less easy to understand how the rings can be customized. If you see a setting you love but the center stone isn't quite what you're looking for, you'll need to get in touch with Ascot to discuss how it can be customized to fit a particular spec of diamond you're looking for, or your budget.
Ascot Diamonds diamond quality
Engagement rings are all about the diamond, and being able to choose a diamond that will sparkle brilliantly will make the difference between a truly stunning engagement ring and one that looks dull and unimpressive.
In this section, we'll examine the quality of diamonds Ascot Diamonds offers, as well as how transparent they are about the quality of the diamonds themselves.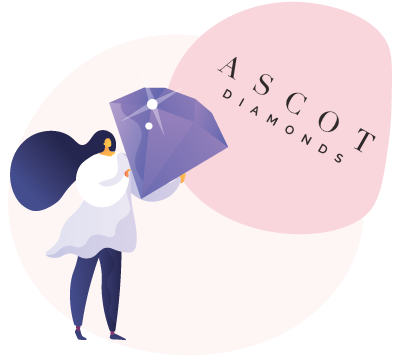 Looking at Ascot Diamonds website – In their "Diamond Section", they allow you to choose between a lab or natural diamond:

You can then filter your diamond search by shape and diamond carat weight:

The website does default to 'lab grown diamonds', so if you are looking for a natural diamond then you just need to click natural on the option provided.
Once you have done so, you're asked to choose a shape and a carat weight range e.g. 0.50 to 0.99 diamond carat weight, before the website will generate its list of diamonds to review and choose from:

Ascot Diamonds' search function doesn't allow you to use filters to narrow your search – as a buyer you can just review the list. This isn't as customer friendly as some online experiences as it can make it difficult to narrow the search if you know exactly what you're looking for.
In the list of diamonds, carat weight, color, clarity, price and certificate are all displayed, which are useful.
Missing from the website here is any mention of the most important C of all – 'cut'.
While carat weight may be the biggest determinant of diamond price, the factor that determines how much a diamond sparkles is diamond 'cut'. Diamond cut is a measure of how well the diamond has been formed and it is essential that a diamond has good proportions to reflect light; otherwise it will be dull, lifeless and unimpressive.
Diamond is too shallow:
Light passes through the diamond and is lost, meaning the diamond looks dull and sparkles less than it should.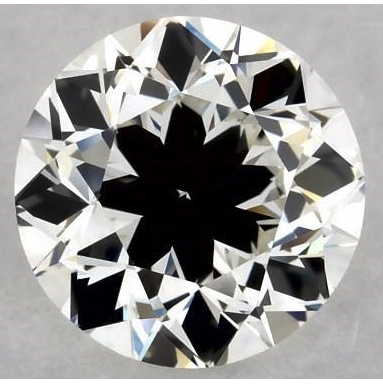 Diamond is too deep:
Light is bounced off the bottom facets at the wrong angle and is lost out of the side of the diamond, reducing sparkle.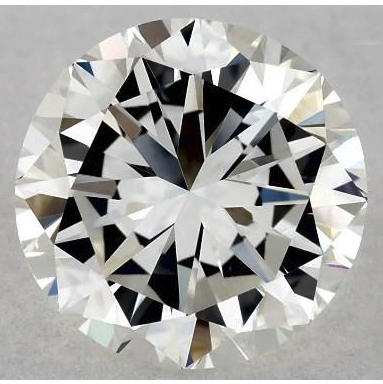 Excellent / Ideal cut:
Light is reflected off the bottom facets and back through the table to your eye, meaning the diamond sparkles beautifully.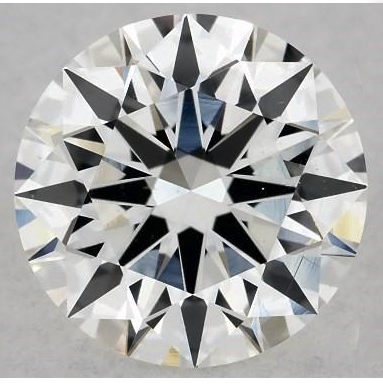 Looking at the grading reports available on their website, it appears that Ascot Diamonds only offers 'excellent' cut diamonds ie. those that have proportions that are most likely to reflect light and sparkle: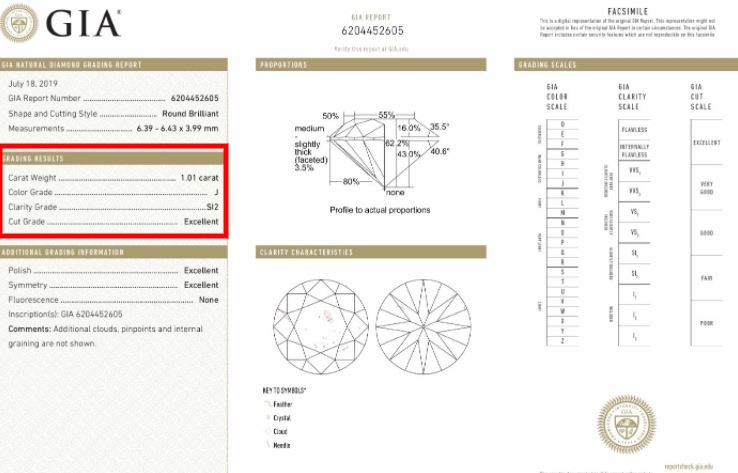 They score points here for ensuring that they are offering diamonds of high cut quality. If they actually told consumers that their diamonds had been graded 'excellent' for cut, that would clear up some confusion though!
Interesting to note that Ascot Diamonds do offer a large number of very low clarity diamonds – those that have been graded in the 'Included' range of the grading scale:

I1 clarity diamonds usually have significant and obvious flaws that are visible to the naked eye and which negatively impacts the beauty of the diamond.
Obviously these diamonds are priced accordingly – they are much cheaper than a diamond with a higher clarity grade that is 'eye clean'. For some people, choosing these low clarity diamonds is a trade-off that is worth it to allow them to reach a particular carat weight within their budget. However, extreme care does need to be taken when choosing diamonds at this clarity to ensure that you are happy with the visibility of the inclusions.
Overall, the quality of diamonds offered by Ascot is high, although more transparency around the cut quality would be useful for customers.
Ascot Diamonds diamond grading labs
Diamonds are graded on four key factors – carat, color, clarity and cut – and a host of smaller factors too. Diamonds which score higher are generally more expensive – an F color diamond will be pricier than an H color, if everything is the same.
It's important therefore that diamond grading levels can be trusted – you don't want to pay more for an F color diamond if it is actually an H. This is why independent diamond testing labs are important. An independent testing lab doesn't have any incentive to say that a diamond is higher quality than it is, as they don't make any more money if they do. In fact, if they bump up diamond quality grades, it may mean people trust them less, which might mean they make less money.
Retailers DO have an incentive to increase diamond quality scores, as it will mean that they can sell a diamond for a higher price. For this reason, I recommend that you always look for a diamond which has been graded by an independent authority – my usually recommendation is the GIA, although there are other good diamonds 'labs' too.
It's good that Ascot Diamonds has their diamonds checked by independent grading lab and the majority of their diamonds are graded by EGLUSA which are generally less strict than GIA, which means that a diamond that is listed as an F color, may be more like an H. Ascot are transparent about this and include a page about it on their website: EGL vs. GIA.
What this means is that EGL USA-graded diamonds are less expensive than their GIA graded stones, even if they have better specs e.g.the EGL diamond below is graded higher for both clarity and color, but is $10 more expensive:

The reason for this is because the EGLUSA stone is actually not whiter and does not have fewer inclusions than the GIA stone.
So what does all this mean?
For me it means that it's a better idea to just choose a GIA stone so you know what you are getting. The inconsistency of the EGLUSA gradings compared to the industry-standard GIA means that their gradings shouldn't be relied upon.
Ascot Diamonds service
Buying an engagement ring is a special purchase, and you want to have confidence that the retailer will not only treat you well while buying your ring, but also that they will stand behind their product after the purchase too.
Ascot Diamonds has 5 stores in major cities in the US – New York, DC, Dallas, Charlotte and Atlanta. If you live in one of these cities, you therefore have the option to visit the store to see the design you like in person and try it on. If you don't live in one of these cities, then Ascot do a great job with remote consultations, meaning that you don't need to miss out on working with them to find your ring.
If you are unsatisfied with your purchase for any reason, you can obtain a full credit, refund or exchange within 30 days from the date of purchase which is a better offer than many other jewelers. They also have jewelry repair and a cleaning service to maintain the beauty and life of your diamonds. Good after-sales service all round! Looking at Google reviews, Ascot Diamonds in Dallas scores 5 stars from 260 reviews: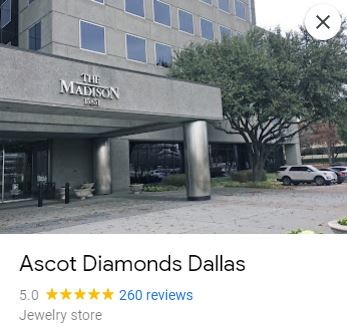 Pretty impressive! And if we look at some of their other stores, they also score 5 stars in their reviews – pretty difficult to fault this level of service.
Ascot Diamonds value for money
Buying a diamond ring is a big commitment – both financially and emotionally. So it's important that you ensure sure that you are getting good value for money and aren't spending more than you need to.
After all, if you're buying an engagement ring, it's likely that you will have a wedding to pay for soon.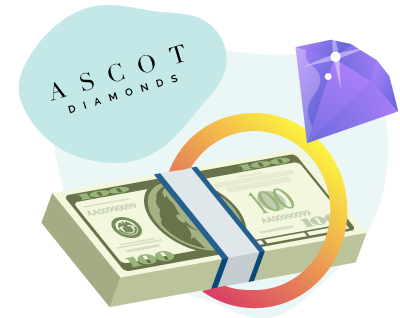 To see how Ascot Diamonds value for money compares, we'll compare it to one of my recommended retailers – James Allen. James Allen is an online bridal jewelry retailer who leverage their scale to deliver some of the best value in the industry.
When comparing, we'll keep the diamond as similar as possible such as clarity, color, carat, cut and grading laboratory. Ascot Diamonds offers a round diamond with 1.01 carat, SI2 clarity, J color, excellent cut and GIA certified for $4,300.

If we look at this price compared to my recommended retailer James Allen, a round shape diamond with 1.01 ct diamond, J color, SI2 clarity, excellent cut and GIA certified same as Ascot Diamonds is just $3,530.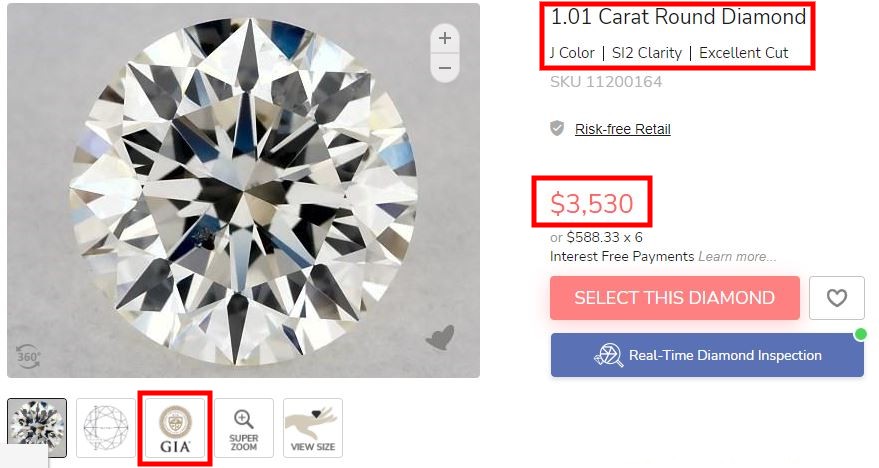 This is a significant difference in price – the Ascot Jewelers diamond is priced $770 higher, or over 20%:
While you may not be looking for a diamond of this size or price, it is indicative of the higher prices Ascot Diamonds are charging – over 20% more for an identically specced diamond.
Of course, this is just an example, and the diamond you are looking for may be very different to this. However, it's worth noting that with the money you would save by buying from James Allen instead of Ascot Diamonds, you could:
Increase the carat weight of the diamond
Increase the quality of the diamond
Spend it on a really special proposal
Put it towards your wedding cost
Or possibly all of this!
The prices at James Allen may be different on the day you look – maybe higher, maybe lower – it's worth clicking through to see today's prices for exactly what you're looking for.
Ascot Diamonds review
Ring selection

Diamond quality

Service quality

Value for money
Do we recommend Ascot Diamonds?
Ascot Diamond has 5 beautiful stores across the United States and have received 5 star reviews in all of their branches for the service they offer. However, the excellent service comes at a price and that is high costs.
Where you choose to buy your ring from is your decision, but the cost may be high. In my opinion, the convenience of benefit of being treated like a VIP inside their stores is not worth the extra expense compared to buying from James Allen.
Overall, while Ascot Diamonds is certainly worth considering, if you are looking to get the most bang for your buck, it's worth cross-comparing it against a retailer like James Allen to check that the price you are being quoted is competitive.
Pros
4C's (carat, color, clarity and cut) are available to see on their website
30 day return policy
Offers GIA graded diamonds
Cons
No filter for engagement ring settings
Diamond search is not user friendly
Offers I clarity which is a very low grade clarity
Expensive diamonds