Pavé engagement rings
Information and inspiration for pavé diamond rings
Ringspo is reader-supported, which means we may receive a commission if you click a link to a retailer & subsequently make a purchase.
We feature links to several retailers to help readers find the one that is the best fit for them. Find out more about how Ringspo works here.
Pavé diamond rings (pronounced 'pah-vay') can broadly be thought of as a ring setting 'paved' with diamonds – lots of small diamonds covering the whole ring, including sometimes the underside of the band.
The idea is that the entire surfaces is covered in diamonds, often set in multiple rows with no metal at all visible between them.
The actual word itself refers to the French word for 'pavement' and the diamond are supposed to fit together like cobblestones on a street.
To create the effect, a jeweler will drill a series of holes into the ring setting, place the diamonds into the holes and then create tiny prongs, or just beads of metal, over the edges of the diamonds, securing the stones in place: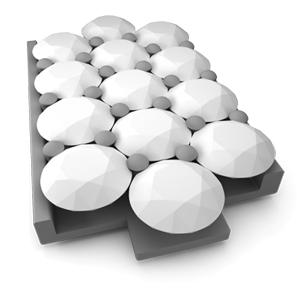 It's a ring style that requires a lot of skill to create, but the result is invariably stunning.
On this page we're going to look at:
What's good about pavé setting engagement rings
What's not so good
A range of pavé diamond engagement ring setting styles
At the end of the page you should have a really good idea of what to look for with a pavé engagement ring and hopefully have some great inspiration for choosing your ring too.
What's good about pavé engagement rings?
Pavé diamond rings are beautiful
The main reason for choosing a pavé setting is the huge bump in sparkle and beauty you get by adding pavé to the ring.
Round brilliant diamonds are usually used for pave settings as they are the sparkliest of all the diamond shapes. By placing a large number of them very close together, you make sure that your ring will catch the light from any angle and sparkle brilliantly.
Pavé settings can increase the total carat weight of your ring considerably
Buying a ring with a significant center stone can be expensive. For example, if you were looking at a 1.5 carat round brilliant diamond with good cut, color and clarity, it would cost around US$12,000. You can check out today's prices of a 1.5 carat round brilliant diamond here. Then you would have to add the cost of the setting on top of that.
But a pavé setting with 0.6 carats added to a 0.9 carat center stone would allow you to hit the same 1.5 carat mark in a different way for significantly less.
This would allow you to hit 1.5 carats of total carat weight for around $7,000.
What's bad about pavé engagement rings?
Pavé settings can be expensive
While pavé settings can be a great way to boost the bling of a ring, it doesn't come without a price tag attached.
Due to the number of small diamonds involved and the extra workmanship required to cut the diamonds and fix them into the setting, the cost of a pavé setting can creep up. And the more complex and flashy a pavé setting is, the more expensive it will be.
Pavé diamond rings can need maintenance
Pavé engagement rings can require that a little more care is taken over them than simpler styles due to the sheer number of small stones that are used in the ring setting and the delicate nature of the prongs that hold them in place.
The diamonds used in a pavé setting are usually less than 1mm across, and the prongs that are holding them in place even smaller still – they're the tiny dots on the corners of the
diamonds in the picture on the right. It doesn't take much force for one of these tiny prongs to get bent out of place, which means that the diamonds could become loose or even fall out.
It's recommended that pavé rings are taken into a jewelers to be checked at least once a year, if not more.
Pavé diamond rings can be difficult to resize.
If a ring has a diamonds set all the way around the band, like this one, it will be very difficult, if not impossible, to resize it. Most pavé set engagement rings only have diamonds on the top half of the band, which means that they can be resized slightly, but it definitely makes it more difficult than a solid metal band.
Because the diamonds are held with very small prongs, making the ring significantly larger or smaller could affect how they hold the tiny stones, meaning that the diamonds could be less secure than they originally were..
The side stones on pavé diamond rings can irritate sensitive skin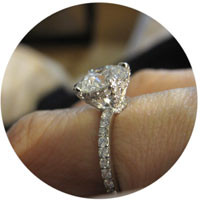 A ring that has diamonds on the side of the band may rub and irritate the two fingers on either side of the ring finger.
This shouldn't be a problem for most people, but if the ring-wearer has particularly sensitive skin, it's worth considering choosing a ring that has smooth sides.
I realise that the 'what's not so good' list is much longer than the 'what's good' list on this page, but please don't let this put you off a pavé ring. If you love the look of a pavé setting then definitely go for it, I just want to make sure that you're aware of everything you need to know about your ring before you buy.
Pavé engagement ring settings
There's a huge variety or pavé settings available and it would be impossible to give you a definitive list of all of them. To give you an idea of what is out there, I've included some examples of the variations of pavé engagement rings.
Click through on any of the rings to find out more about it, or click through the links to the jewelers websites to see even more options.
---
French pavé diamond ring
The beauty of pavé settings is that they can be added to almost any ring style and instantly make them much more impressive. A normal solitaire setting relies on the the center diamond to do all of the impressing on its own. By adding pavé to the band, the ring will instantly catch the light and sparkle from any angle, making it much more dazzling.
---
Cathedral pavé diamond ring
Tweaking the format of the ring band (or 'shank' as it's known in the trade) can have a huge effect on what the ring looks like. This 'cathedral' setting raises the center diamond up higher than a normal solitaire setting, and the shank tapers towards center stone, drawing the eye to it.
---
---
---
---
Split shank pavé diamond ring
---
Sapphire and diamond pavé diamond ring
Pavé settings definitely don't need to be restricted to just diamonds, as this ring which features alternating pave-set diamond and sapphires shows. A great way to add some individuality to your engagement ring.
---
Double pavé diamond ring
Pavé engagement rings can be as ornate as you can imagine. This ring has 80 diamonds pavé-set into the setting, for a total carat weight of 0.65 carats, plus the weight of the center diamond that is chosen. With three rows of diamonds on the band, it definitely lives up to the 'paved with diamonds' ideal.
Double pavé engagement ring from Whiteflash
See 243 pavé options at Whiteflash
---
A great place to get inspiration for pave rings is online galleries which show a wide selection of recently purchased rings. You can use the dropdown menu to select just pavé rings and see what other people have been buying – definitely worth a look!